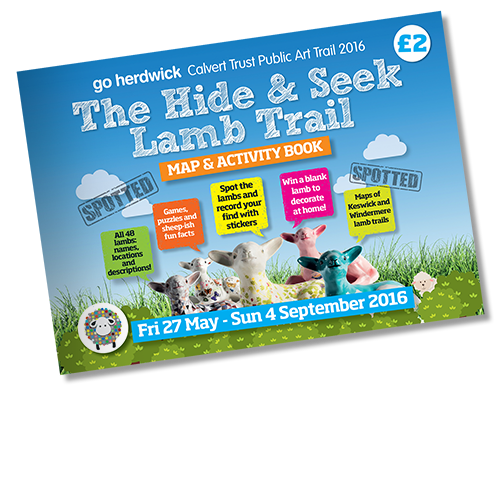 The Hide & Seek Lamb Trail
The essential Go Herdwick accessory for small people this Summer 2016! Our 24 page, full colour trail map features the locations of all of our babies plus plenty of fun stuff including stickers to mark off each 'find', puzzles, games, a colouring competition and fun facts about sheep. Get one and Go Herdwick spotting!
Herdwick spotting is a fun activity for adults and children alike and this booklet will help you find all 48 lambs! The trail is broken down into the two towns of Keswick and Windermere / Bowness-0n-Windermere, with a map for each showing where all our lambs are located.
NB: The earliest maps will arrive with you is Saturday 28 May. See below for details of local stockists if you are visiting the area over the May Bank Holiday / Half Term.
All funds raised help the Lake District Calvert Trust to deliver challenging outdoor activities for those with disabilities, through the development of a new rehabilitation centre in Keswick. (Inc P&P @ £1)